Employee Engagement: Importance, Strategies and Examples
Employee engagement can be defined as a workplace strategy designed by the company to enhance an employee's emotional attachment to the respective organisation. Through various creative and fun employee engagement activities, a company can ensure their employees' loyalty to their job duties, respect towards their position within the company, and the need to nurture the company's culture.
Employee engagement tactics are used and designed by the HR of a company. These strategies are meant to take care of the feelings and mental health of the employees. The activities are designed such as to maintain your employees' love and attachment towards your company. 
Employee Engagement in HR: What is the HR Role in Employee Engagement
Designing effective employee engagement strategies is the job of your company's HR. An HR's role is vital in ensuring that your company's employee engagement strategies are being carried out successfully. 
An HR's foremost initiative will be to analyze the impact of the employee engagement program on the productivity and well-being of the employee. 
Following are the five key roles of an HR in maintaining effective employee engagement strategies for the company.
The HR department plays an executive leadership role to identify the ways the company can invest in improving employee engagement strategies. Additionally, an HR is responsible for ensuring the positive impact of employee engagement activities and creating a transparent ground for communication between an employee and an organisation.
HR Professionals are trained to be experts in employee engagement. As mentioned above, an HR is responsible for creating a clear ground of understanding of what employee engagement signifies, between the company and the employees. They are the ones who can best divulge the facts on the importance of employee engagement, what strategies to maintain for the same, and what manoeuvres to follow to ensure a constant improvement in employee engagement strategies.
HR professionals are responsible for guiding, training and providing a clear picture of employee engagement programs to company managers. An HR should ensure that a clear ground of dialogue has been established between the company managers and the employees, taking care of the new approaches and building a comparison by pointing out past scores and metrics for the betterment of employee engagement policies. 
An HR professional carries out the vital activities related to the entire process of implementing an effective employee engagement strategy. For instance, is the duty of an HR professional to imbibe fun, and excitement and show the company the impact it can have by including employee engagement tactics in its policies. 
Since an HR is best trained for guiding the company towards employee engagement policies, they are the ones who can stimulate an encouraging and rewarding work environment, thus positively impacting employee health and the growth of the company. 
The HR of your company should regularly measure the effects of employee engagement policies by carrying out surveys and calculating the changes that the strategies have brought about in the company. To increase employee engagement, the HR department must emphasize specific dialogue and techniques, instead of focusing exclusively on data, analytics, and ranking numbers.
How is Employee Engagement a Significant Road Towards Success?
According to a research report by Gallup, 147% of companies implementing effective employee engagement policies have outperformed their competitors in earnings per share. 
Through constructive employee engagement programs, a company can ensure that their employees are getting the right amount of motivation and rewards that keep them going, thus leading to higher and better performance, which will eventually lead to company success. 
Let us have a brief discussion on the importance of employee engagement.
The primary motive of employee engagement is employee retention. By implementing operative employee engagement strategies, the company HR makes sure that the number of employees who are staying back gradually increases. 
Why is employee retention important? Employee retention reduces the turnover and the hiring costs for new employees, thus cutting down on the entire budget of the company. 
Engaging employees is of significant importance when your company is looking forward to retaining its top talents. In fact, according to a survey, employee disengagement is the key reason behind high employee turnover. 
A report by Forbes state that improved employee engagement tactics can motivate employees at work, thus ensuring their commitment and loyalty towards their company. 
Isn't it pretty obvious that engaged employees who find motivation at the workplace, will contribute more to the company in terms of productivity? Employee engagement plays a key role in maintaining positivity, improving mental health and eradicating work stress, thus impacting the way your employees will contribute towards your company's growth. 
According to a report by the Workplace Research Foundation, employees who are engaged at the workplace are 38% more likely to contribute to above-average productivity. 
A Noticeable Growth in the Profitability Curve
According to a report by Gallup, highly engaged employees contribute to 21% of greater profitability. A highly engaged employee feels motivated at their workplace. Employee recognition coupled with workplace encouragement further allows employees to invest their time and mind in their company, thus naturally soaring up the company's profits.
Employee Engagement Activities
In this article today, we share with you some of the best employee engagement ideas that you as an employer can implement in your company. However, make sure that whatever plans or ideas you come up with, your employees should be put at the centre of all the activities. Let's have a look!
Workplace parties are one of the best-known ways of strengthening employee engagement. Many organizations have annual summer and winter parties organized for their employees. Prioritizing your employees at parties and festivities will make your employees feel valued and add a positive experience to their work life. 
Party Ideas for Your Employees
The Office food Party

Halloween party

Christmas party

Happy Hours

Karaoke Night
Special days at the office are nothing but fun events that you can organize now and then break the monotony. If you have watched 'The Office'- the American mockumentary Tv sitcom series, you must have come across some fun ideas for events that transpired at Dunder Mifflin! 
Ideas for Special Days at the Office: 
Bring your child to work day

Bring your pets to work day 

Casual day or pyjama day
Recognition programs are all about acknowledging the efforts of your employees and rewarding their form their performance. Recognition programs are the best-known ways through which employees can socialize, get to know each other in a better way and feel appreciated. 
Zappos has some of the best recognition programs for its employees. For instance, their 'Zollars' program allows employees to earn Zappos money which they can use as they will. Zappos also offers a parking program where employees reward each other with the best parking spots within the company lot.
Team building fun activities are known to be one of the best ways of increasing employee engagement. Team building tasks will not only improve relationships and enhance communication between the employees, but these activities also have the capability of manifesting leadership and team-working qualities among the employees. 
Fun Team building task Ideas: 
Brewery tours 

Bowling 

Go-kart racing 

Laser tag 
Fun Games and Competitions
Your employees would love participating in fun tournaments and competitions. These are the best-known ways of facilitating bonding and actings as stress busters, a much-needed break from the monotony of work. 
Fun ideas for workplace tournaments and competitions: 
Bake off Competition

Football league 

Pool Tournament 

The Egg ball challenge

Desk Decorating Competition 
HR Strategies to Improve Employee Engagement
Following are the best six employee engagement strategies that an HR can implement for the betterment of your organisation. 
Employee Engagement Surveys
Multiple choice questions, open-ended questions, and rating statements are three of the best-known ways an HR can consider to structure employee engagement surveys. Surveys are important as they bring forward a clear picture of what employees want the most. 
Employee survey reports can help you prepare statistical data comparing the impact of the employee engagement strategies of your company, and aid you in designing better measures for improved results.
Employee Engagement Activities
Involving your employees in engaging and fun activities will facilitate their work experience and backstitch their attachment to your company. Allowing employees a carefree and fun environment with their coworkers would not only refine relationships but will also act as a great mental stimulation.
Surveys showcase that employees are more likely to stay longer in a company with a diverse workforce. Your employee would rather find it refreshing and enjoy the experience of sharing work with co-workers from different ages, races, or cultural ethnicity. 
Corporate Gifting is the most efficient strategy option you can deploy for your organization. Gifting your employee the right things at the right will do wonders. You can gift your employees wellness kits or even customized or personalised gift items. 
For instance, you can send out customized gifts on Christmas, new year or Halloween. On the occasion of your employee's birthday, anniversary or retirement, you can opt for personalized gifts. 
Gifting is great as it will make your employee feel valued, appreciated, and a part of the organisation's family.
Employee Recognition programs should be a vital part of your company's employee engagement strategy. An employee who feels appreciated for their contribution will certainly devote their time and mind to the betterment of the organisation. It is indeed important to affirm your employees of their immense contributions to the organisation. 

An employee recognition program can include an employee of the month or year award grand fiesta, where you reward the top performers of your organization. Rewards will have a mammoth impact on an employee's performance, as they look forward to achieving further heights.
Lastly, it is the responsibility of an employer and an HR professional to rightly play out the three C's of employee engagement. Now, you must be wondering what are three C's of employee engagement. They are career, competence, and care. 
Gift your employees the opportunity for career growth through rotations and promotions. No employee would want to stay stuck in a stagnant growth curve. Surveys say that employees who are promoted on the basis of performance and merits tend to retain longer at an organisation. 
Foster competency amongst your employees. If career is the destination, then competency is the carrier. Introducing your employees to training programs and internships will open their gateway to confidence and a soaring career growth curve. It is easier for employees to stay engaged when they know that their current jobs are helping them develop the skills they will need for future jobs.
Lastly, it all comes down to caring. Caring is a culture that good companies cultivate through managers who are sensitive to the needs of their employees and who balance tasks and relationships in a meaningful way. The depth of engagement is enhanced by genuine caring.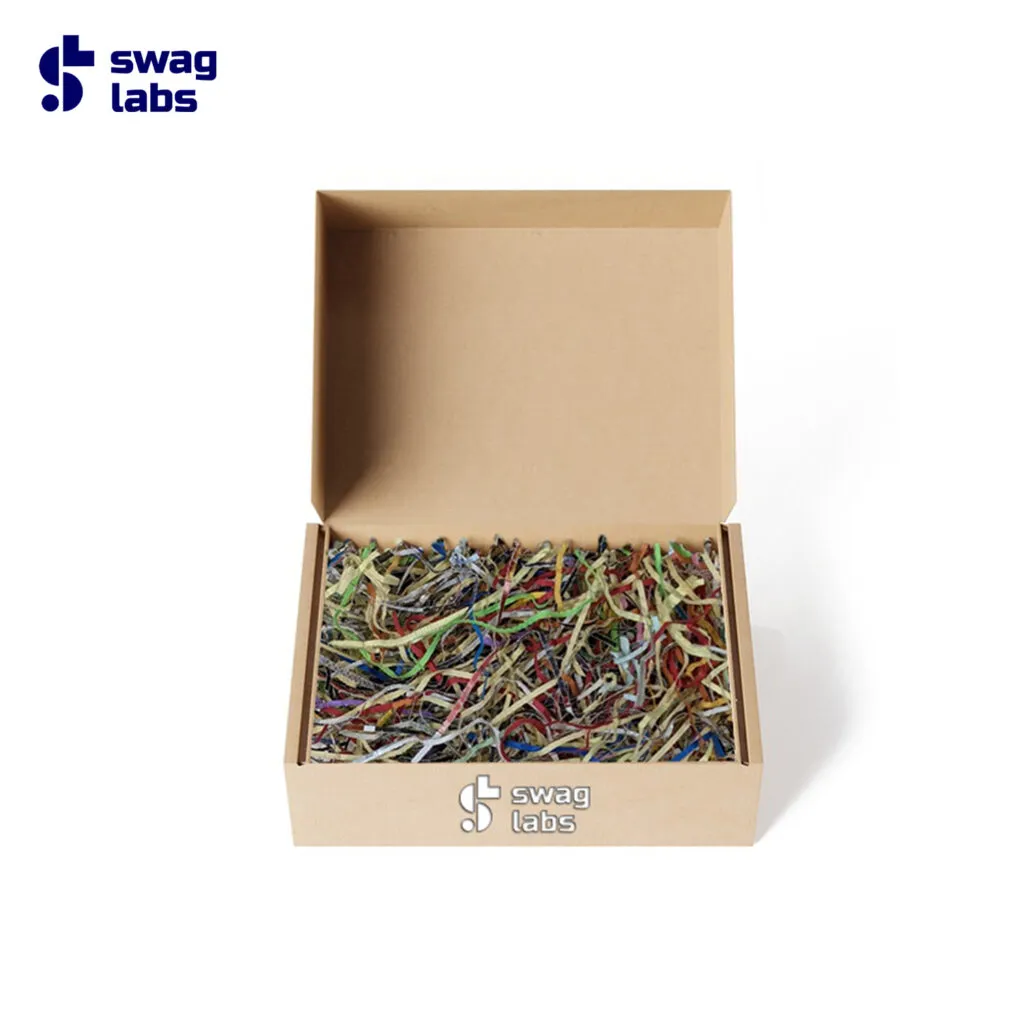 Frills Shreaded Multicolor Paper