Top 5 Best Corporate Gifts Ideas To Make Your Employees Swoon!
Why You Need To Think Out Your Corporate Gifts
Let's start off by being honest. Gifting is hard! You never know what someone wants, especially when you only work with them on a professional level. 

Whether you manage a small team of employees or have a company so huge that you have never met some of the employees who are spread across offices across the country, you understand how important your employees are to the success of your company.

Instead of giving your staff cheap corporate knick-knacks or whatever age-old definition of corporate employee gifts you have, consider intelligent, practical alternatives. While some are simply a click away from Amazon, others come from our favourite brands. You can even go above and beyond with certain gifts by adding a personal touch that genuinely expresses your gratitude.
This is where we come in! Team Swaglabs has put together the perfect list of gifts you can give your cherished employees:
It is not rocket science that a place of work would gift their employees stuff that would be of use to them. Be it something that helps them, at work or at home, it is up to the gifter and the user of said gift. But what kinds of gifts can you expect when you hear gifts of utility?

One of the first things you can expect is a stationery set with pens, pouches, books, bottles, bags and more. It's sort of like an employee starter kit. But even more important is that gifts are not only efficient and well appreciated, but they are also easy on the pocket. 

Swaglabs has a range of products like laptop sling bags or backpacks, water bottles, clocks, speakers and more that make for the perfect gift for employees, especially when you are gifting generally.
Something as simple as printing someone's name on a jacket makes them feel a personal connection to it. Companies can play off of this feeling and give gifts that are more heartfelt and personal to actually connect with their employees. 
This gives the employees more comfort in their workplace and also lets them have respect for their higher ups for going the extra mile of personalising something for them.

On Swaglabs you can find jackets, shirts, t-shirts and more apparel many of which are customisable by colour, logo, length and more.
Nothing says "you are important to me and to this organisation" like a well curated care package. It is already in the name. Anyone who sends a care package to someone else truly wants to make the other person feel like there is a mutual respect and connection between the two. 

Care packages include little goodies from various different sources, unless you manage to find readymade care packages for immediate use. They can contain anything that ranges from chocolates to skincare products to snacks and more. 

On SwagLabs you can find various different items that you can curate and put together to style your own goodie care package. We have an affordable line of electronics, exotic herbal and medicinal tea boxes, exotic flavours of popcorn (cause who doesn't like a good munchie) and many more. You can give your employees their own care packages and even personalise them to your taste or, if you know them well enough, their tastes too.
When in doubt, you can never go wrong with a tech-focused gift. People love it when you give them something that is flashy and useful to them. Tech gifts like bluetooth speakers, designer alarm clocks, earphones, and more really make your employees appreciate you.

On Swaglabs we have a wide range of bluetooth speakers with various functions and colours to choose from. We also have digital watches, clocks and headphones that really bring out a person's inner swag.
We know it's tiring to read about this, but that pandemic really did strike us hard. As a result, many jobs have gotten onto an online platform. But sometimes, employees that work from home do not get to reap the benefits that employees in the office do. 

So what better way to let your homebody employees know that they are just as valued and cherished as the ones that go to the office? That's right! A really cool gift is the right way to go about it!

On SwagLabs you can choose any kind of gift for WFH employees. Some suggested picks include our personalised mugs, gizmos, wide range of professional bags, branded clothes from rare rabbit or puma, or whatever you feel necessary! The sky is the limit on the options we have for you!
The Effects Of Corporate Gifting
It becomes apparent how important corporate gifting is for both internal and external recipients. Marketing professionals, sales teams, HR staff, and others may establish extremely successful corporate gifting policies and campaigns that can assist in steering your organization in the correct way. It may be possible to increase the effectiveness of those endeavours by using a sending platform to automate the procedure and comprehend the data.

Reach out to SwagLabs if you're interested in learning more about the power of corporate giving and what you can provide your employees to build genuine relationships with them.
So what are you waiting for? Order your very own goodies to get your employees over the moon!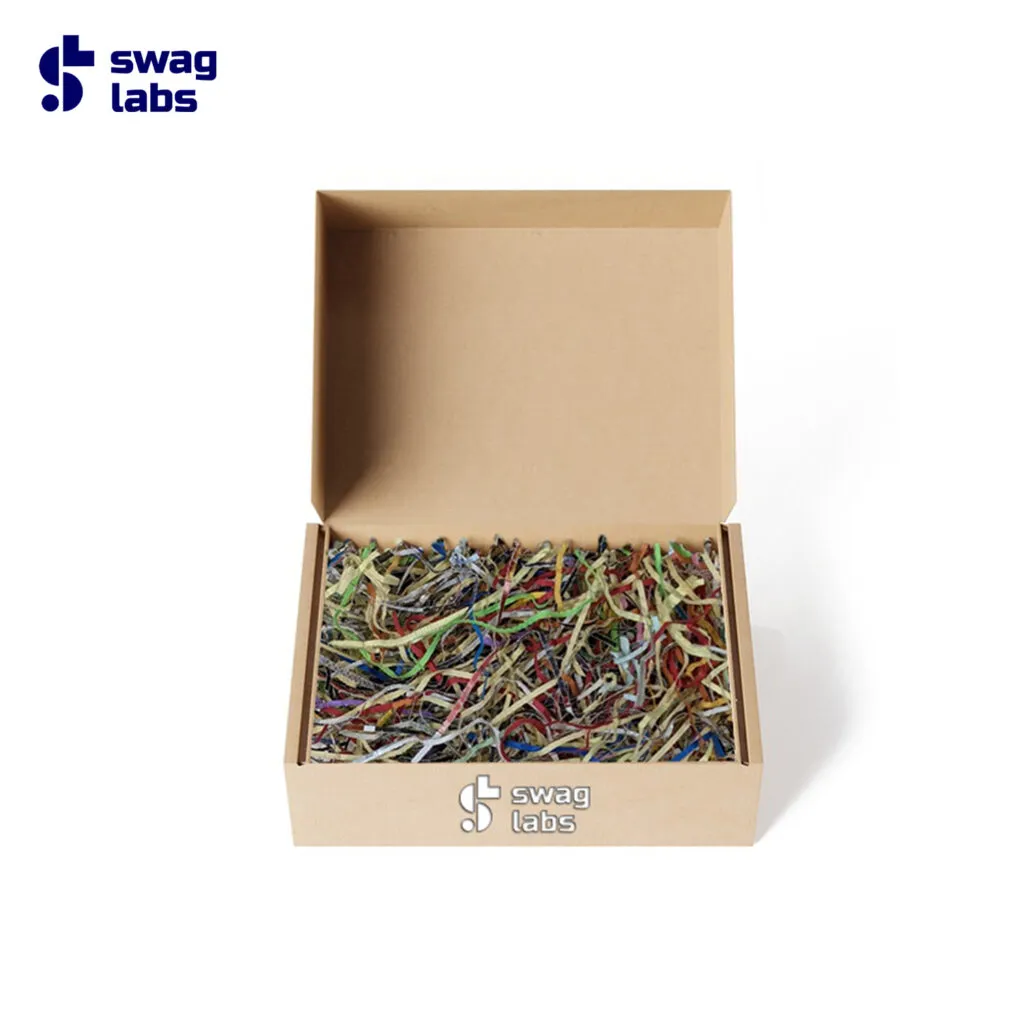 Frills Shreaded Multicolor Paper